A Stolperstein – in English "stumbling stone" – is a paver on which a brass plate measuring 10 x 10 centimeters is mounted. The inscription shows the name, birth- and death-details of the victim. The stone is placed in front of the victim's last home. Because, certainly in the war years, several Jewish citizens often lived at one address, there are often several stones for one house.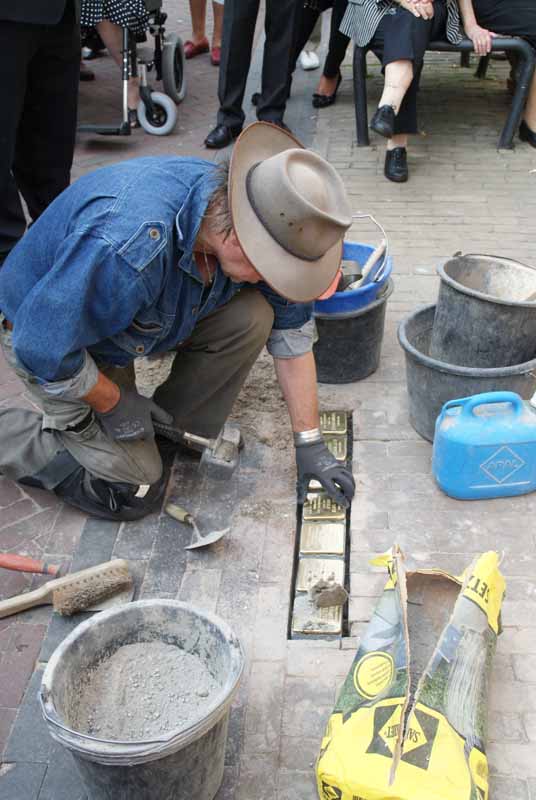 Gunter Demnig
To read a Stolperstein you have to bend over, and therefore reflect on the history and on the victim probably unknown to the pedestrian. "A person is only forgotten when his or her name has been forgotten" is therefore the motto of the Stolpersteine project. This is an initiative of the German artist Gunter Demnig. He laid the first Stolperstein in Cologne in 1992. In the meantime, these memorial stones have been placed in hundreds of European cities. The production and distribution of the stones for the Netherlands has recently moved to Amsterdam.
Schildersbuurt and Kostverloren
Between 2016 and 2022n Groningen, residents of the Schildersbuurt and Kostverloren districts in Groningen have laid more than 250 Stolpersteine for the 263 victims in these districts. In Haren, 29 stones have been laid. In the Folkingestraat one can find, among other things, a stone bar in memory of the van Gelder family.
Who can request a Stolperstein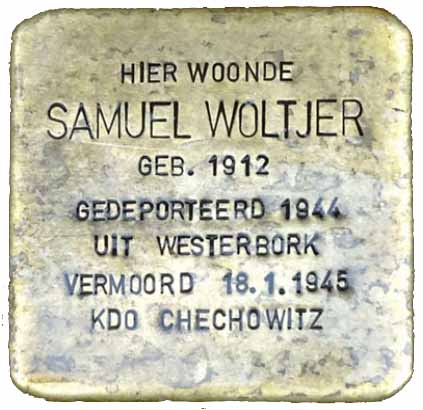 Anyone can take the initiative and apply for a Stolperstein. The applicant provides the necessary data and also organizes the final ceremony during the placement of the stone. Sometimes Gunter Demnig is personally present to place one or more stones. If this is not the case, pavers from the municipality will take care of the placement in advance. Of course, the foundation can be helpful with the ceremony. If requested, the Synagogue in the Folkingestraat can accomodate a meeting after the laying.